When you see the Norwegian band THE CARBURETORS on stage, you think these five gentlemen are totally crazy. They bring speed to rock n' roll and their show is like a hurricane of energy supplemented by pyrotechnics and even stunts. They returned to Slovakia to perform at Rockfest in Nitrianske Rudno in early August, so it was an opportunity to ask them a few questions.
They are as happy and energetic in backstage as on stage. I have to say that I have never been laughing so hard during the interview as it was with singer Eddie, guitarist Kai and drummer Chris who were talking about incidents with pyrotechnics, hugs in the shower, Bob Marley or Kai's arrest.
Recently you have released cover of Sweet Little Rock N' Roller by Chuck Berry. Why did you cover this particular song? Why did you choose it?
Chris: Chuck Berry is being a great influence to The Carburetors, to the every one of us since we have started actually. We always go back to Chuck Berry when we make songs. So, it felt natural to do a cover of Chuck Berry. He is one of the masters of rock n' roll, basically… Easy choice.
And do you work on your own new stuff or album? Your last album Laughing In The Face Of Death was released in 2015.
Eddie: Right now we are in the process of recording the next album. I would say, we are like half way in and it is gonna be good. It is gonna be good The Carburetors album, with all the variations that we always have. We have everything from like Chuck Berry, whom we were talking about, and upon to like more hard rock stuff, like Judas Priest or Kiss, you know. This is The Carburetors, we are everything in between. We like to put ourselves between Chuck Berry and Motörhead. So everything in between is The Carburetors. So yeah, we are working on a new album.
Will be singles you released last year and this cover of Chuck Berry on this album?
Eddie: Yes, all the singles will be on this album.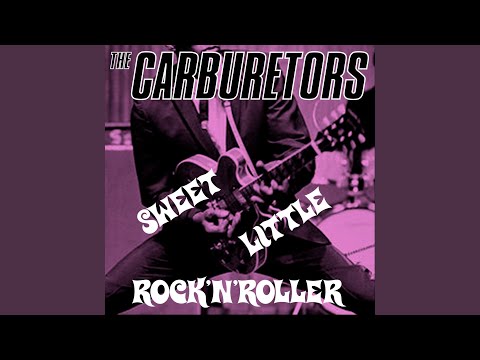 How the songwriting process in The Carburetors looks like?
Eddie: Well, most of the time we fight a lot… No, to be honest, we all contribute. Everyone writes songs on the different sides, and we bring them in, and some will go through and some are thrown away. That is the process. So, everybody is involved in the whole process, maybe someone makes the melodies, someone else makes the lyrics. And together we force it in to be a Carburetors' songs.
Kai: I just want to say something. He said, that the singles will be on the album, but not the "B" sides, because we always do the "B" sides like cover songs. For the singles. And we recorded Let It Rock by Chuck Berry as well.
Have you ever tried to find out how fast can you play? Your fast forward rock n' roll style can be pretty fast.
Eddie: Why should we? We play fast a lot. When you listen to lot of different bands, I think we are good. I think we are all right. I think we are more than fast a lot. No, it is just a joke. But the truth is that one thing in very important process, that when it comes to the chorus, we want everybody to sing with us. So, the limit for the speed is how fast can we make the audience sing. And I think, that is the way it goes.
Kai: And you have to have groove on it, so if it will be too fast, no groove left.
Kai, Boney M is one of your favorite band, right?
Kai: For me, yeah. But not for the bass player, he hates it. That is some of the things, that makes The Carburetors a little bit interesting, I think. Because everybody has their own kind of view, their own music. I like Boney M, I like Baccara, I like Village People… I like a lot of hard rock as well.
You covered Daddy Cool by Boney M. So which another non-rock song you could cover in your fast forward rock n' roll style?
Eddie: I think, we can do pretty much everything. And I think we can do a lot more different, but…
Chris: We did Elvis as well.
Eddie: We did Elvis, but then again, when you have done one disco song, you have done a disco song. We do not want to be like a disco rock n' roll band. It was cool, it was great fun, but now we move on doing something else.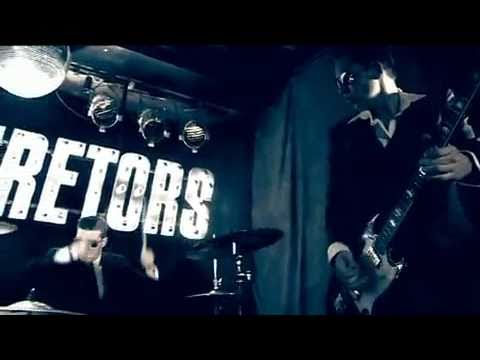 The Carburetors started in a 2001, am I right?
Kai: Well, we can discuss that a little bit.
Eddie: Officially yes.
Kai: I think, the first single was released in 2001. But the band started with kind of the original line-up, that we have been going through a lot of people on the way, to get start to be actually a rock n' roll band. That was in about 2000.
Eddie: I like to say it this way. I started in 2000, that is why I count from 2000.
Since then, you have been played in Slovakia for a few times. What memories do you have of these Slovak concerts?
Eddie: You know, the best thing of playing in Slovakia, and also the Czech Republic, is that audience is very grateful, it is a very good audience. It is probably one of the best audiences to play for in entire world. So, it is always good fun to come back here.
Chris: We have always been very lucky, when we came to Slovakia, we were playing really cool festivals and cool clubs with the lot of people. It was great for us.
Good to hear that. But last year, you were to playing here in Nitrianske Rudno at this festival, and you had cancelled it. Why?
Eddie: I think that probably was because the booking situations we have. We have three different booking agents. We have one for the Western Europe, we have one for Scandinavia and we have one for East Europe. Sometimes, unfortunately, they are under the chaos. So nothing bad, just a little chaos.
Chris: Of course we apologize, but it is not under our control. So we are sorry for that.
But you are here, finally. Tell me, where do you take energy for your shows? What energizes you?
Kai: Our day jobs.
Chris: Whiskey.
Eddie: You, guys. No, to be honest, more the audience scream, more we scream. And more you give, more we give. So it is like a two way communication with the audience. More power we get, more power you get and…
It escalates.
Kai: Yes, and I think, it is important, that we are doing our day jobs, and we are so happy to go out to play at the weekends, you know. I think people see that and give us strength to do it. I think so.
What kind of day jobs do you have?
Eddie: We all work in a factory, working for the man.
And what kind of the factory?
Eddie: I cannot tell you that. Working for the man.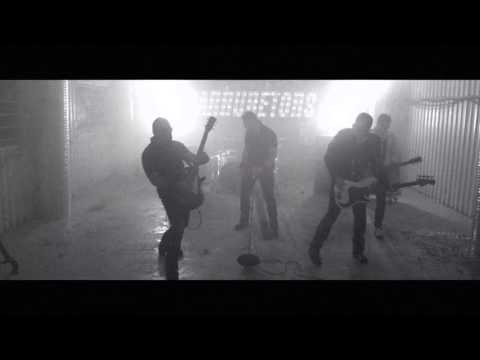 Ok, I won't ask anymore. You use a lot of pyrotechnics during your shows. Do you use it at every show?
Eddie: No, not tonight.
Kai: That is a little lie.
Chris: Our pyrotechnic is so popular after our shows, so he got too much to do, and now sometimes he does not have enough time to do it with us anymore.
Eddie: Unfortunately, he is not with us tonight.
Kai: But it is gonna be a little game. A little surprise.
Have you ever had an accident with pyrotechnics at the show?
Eddie: Yes, many times. When we started, we had to make everything by ourselves to begin with. Make the bulbs, make the fire and everything. Heat it up. We had a lot of accidents. But we would do it again.
Kai: Missing hair, eyebrows, shit like that. We have been a little bit like Spinal Tap if you know that.
Chris: We nearly burn up a couple of clubs in Germany, they had low roofs.
Kai: Actually one time in a one little small bar in Germany, I was going to play throwing show and I had sunglasses on. It was really dark and I was standing on the bar, and the show was very strange. I felt someone steps on the bar and I was going to do the fire, but I did not do it. And when I drop the sunglass of, there stood a girl, just like you there in front of me, and I stood with torches on as you standing and dancing. And she would get everything wet, and she would standing in a fucking fire. I almost burnt her.
Chris: We´ve been lucky. We´ve been really, really lucky. Nobody got hurt, we did not burn out any clubs. So far, so good. And now we have the professional. It is a professional guy, he does all the pyro himself.
Kai: Actually, when it comes to pyro stuff, it is always like… If we burn people or some people get hurt, that is a big problem. So it is always "Safety first". If we burn ourselves, that does not matter. But if we burn people in the audience, that would be a big problem. If we can't do the pyro stuff because of safety, we do not do it. So it is always "Safety first".
Good attitude. I found in one of your old interviews, that you have been doing, like you call it, a "homo hug" before show. Are you still doing it?
Eddie: Call it what you like. We still do it. We love it. You should see it in the shower, we are still doing it. Do you want to see it, ha?
Rather not, I do not want to see it.
Eddie: Me neither.
Chris: When you are on the road, like we have been for 20 years, you get really close, so… It is like a family, and we are almost like family, like married couples. We get really tight.
Kai, you tend to climb on stage or come out to the audience. Are you planning to do this before the show, or you decide to do it in particular moment?
Kai: It depends. Sometimes I find a place like "That is marvelous, that is made for me". And sometimes it is just like "Ok, we can do that". It varies at the mood. It is always safety as well, because when you… Ok, it is not always safety. It is often very spontaneous.
And how many guitars you smashed up on stage so far?
Kai: I do not know. It is a lot of guitars. It is a lot of guitars.
One hundred, two hundred?
Eddie: I think it is all about the 1000, 2000, something like that. But he does it almost at every show. Sometimes two guitars on the show.
Kai: And sometimes three.
And Kai, you were arrested in Torenheim…?
Chris: How do you know it?
I read it in your interview. I want to know what happened there.
Kai: I was actually stealing a guitar, just to smash it. No, I was actually not. I was stealing a six pack of beer. Because there was nobody in the case, you know to do pay. And I was really… It was after play, you know. And it was kind of 7:00 in the morning, and I really needed a beer and cigarettes, and nobody was there to take the money, so I just went out of the door with beer and the cigarettes and wait for guard to come in. Yeah, I got arrested. Stealing a fucking six pack of beer. So it was not big deal. I was actually gonna pay for it. But then I get to saw… I was like "Fuck that, I do not want to pay that." I got to found, you know… I paid a ticket for it. I do not want to do that. I wouldn't be in a jail.
Last question, ok? What music do you like to listen while you are driving?
Eddie: Bob Marley. We listen the reggae music when we drive. Every time we are on tour, we listen the reggae. 
Kai: Not only reggae. We listen to AC/DC, we listen Motörhead, we listen to…
Eddie: Bob Marley.
Kai: Yeah, we listen to all of the heroes. We are inspired by a lot of those bands. We are not doing something kind of "new shit". We are just playing, that music that we grew up on, you know? And that was a lot of stuff like ABBA, Kiss, Boney M, Judas Priest, Motörhead, AC/DC,…
Eddie: Bob Marley.
Kai: I work in the factory as a printer. And when I start with the machines, that is going bum, bum…. All day long. And when I go home I really don't want to put Motörhead on. I can go to Dire Straits.
Eddie: Can I say something in the end?
Of course, yes, you can.
Eddie: The most important thing for us as The Carburaters is you guys have a good time on our shows. We want you to have fun, because when we see you guys having fun, we have a lot of fun. And that is always a good night. That is all I have to say.
Kai: We have all fun as well, you know. That is why we are doing it. Because it is no money in it.